Stay up to date on news from TruHearing and the hearing health industry.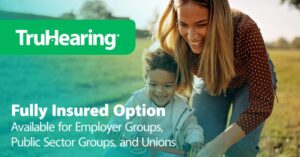 TruHearing Moves to Make Hearing Benefits as Prevalent as Vision and Dental Coverage TruHearing Now Offers an Insured Option for Hearing Benefits DRAPER, Utah, Dec. 7, 2021 /PRNewswire/ — TruHearing has partnered with Fidelity Security Life Insurance Company® to introduce a hearing health insurance plan, giving benefits professionals the opportunity to offer hearing benefits as an ancillary offering, similar to vision or dental. With this strategic move, TruHearing is boosting access to hearing health benefits for employers, public
Read More
Static Example for Layout
TruHearing Achieves HITRUST® CSF Certification, Demonstrating Commitment To Data Security And Risk Mitigation Hearing Health Organization Reaches Standard of Excellence for Healthcare Information Security and Privacy DRAPER, Utah, March 4, 2021 /PRNewswire/ — TruHearing, the market leader in hearing benefits, is proud to announce its Echo platform and supporting infrastructure, as well as its headquarters.