Stay up to date on news from TruHearing and the hearing health industry.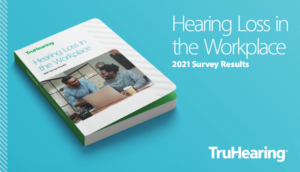 What's that? Asking co-workers to repeat is a top productivity issue among employees with untreated hearing loss. First Annual "Hearing in the Workplace" Survey by TruHearing Uncovers Top Productivity Challenges Among Employees Prior to Being Treated with Hearing Aids DRAPER, UT – June 24, 2021 – As signs of hearing loss build over time, frequent misses and mistakes can take a toll on workers and their employers in the form of reduced productivity. In its first
Read More
Static Example for Layout
TruHearing Achieves HITRUST® CSF Certification, Demonstrating Commitment To Data Security And Risk Mitigation Hearing Health Organization Reaches Standard of Excellence for Healthcare Information Security and Privacy DRAPER, Utah, March 4, 2021 /PRNewswire/ — TruHearing, the market leader in hearing benefits, is proud to announce its Echo platform and supporting infrastructure, as well as its headquarters.