TruHearing only works with the world's leading manufacturers to offer hundreds of the highest quality hearing aid options.

We partner with the best, to bring you the best.
When it comes to your hearing, you shouldn't have to compromise. We offer hearing aid solutions for everyone, from brands you can trust. 
TruHearing's own hearing aids are some of the most advanced hearing aids available today. And as part of the WS Audiology family, we're able to leverage the experience and innovation of two of the world's leading manufacturers.
In addition to our own hearing aids, we offer all of the latest hearing aids from the industry's best manufacturers. No matter your budget, lifestyle, or level of hearing loss, you'll find a hearing aid to meet your needs.
Industry-leading hearing aids
TruHearing branded hearing aids offer some of the most innovative technology on the market today. Our state-of-the-art features give you unprecedented, personalized control over your hearing experience:
makes your own voice sound more natural and less distracting.
cut down on unwanted noise from echoes, feedback, and wind.
lets you stream music, phone calls, and more straight to your hearing aids.
Integrated smartphone app
gives you discrete control from the palm of your hand.
enables convenient overnight charging.
including activity tracking and goal setting are available with the latest TruHearing aids.
improves performance in noisy and crowded environments.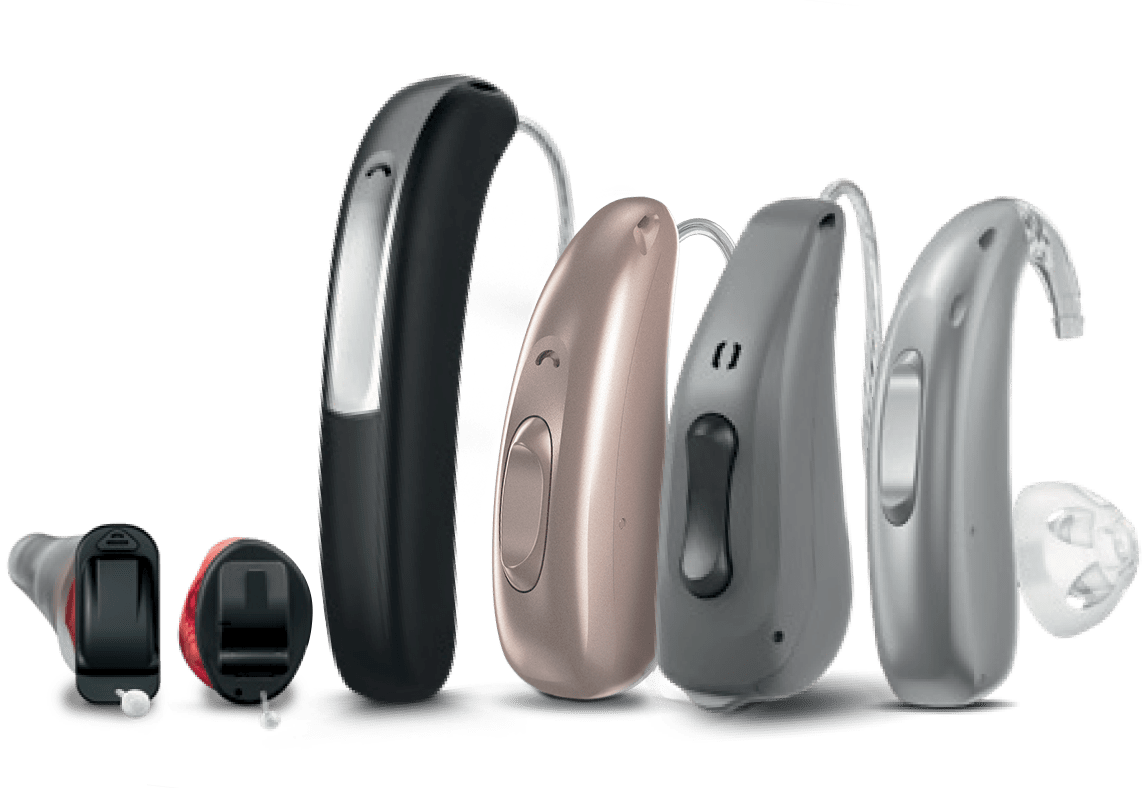 Our hearing aids provide the most natural sound quality possible. With a wide variety of styles and colors to choose from, TruHearing devices integrate seamlessly into your life—so you can live without limitations.
High-quality products from other leading brands
TruHearing partners with the top six leading manufacturers, so you can rest assured that every hearing aid we offer is built to fit more comfortably, perform better, and last longer than ever before.

Founded in 1904, Oticon is one of the longest standing hearing aid companies in the world. Their continued focus on life-changing technology contributes to quality devices which enable people to live life to the fullest.

Phonak's mission is to create hearing solutions that change people's live to thrive socially and emotionally. Since 1947, Phonak has been working to create new hearing aid devices focused on equipping people for the life they want to live.

As part of the GN Group, ReSound strives to provide intelligent audio solutions and deliver what they call an "Organic Hearing" experience. Dating back to 1943, ReSound has been responsible for several innovations in hearing aid technology.

Signia is one of the leading hearing aid brands in the world and focuses their work on enhancing human performance through innovation. Founded in 1964, Signia has developed a number of industry leading technologies.
From their corporate headquarters in Eden Prairie, MN, Starkey works to create devices that allow wearers to hear their very best. They offer a full range of styles and technologies to handle different forms of hearing loss, as well as hearing aid apps.

Founded in 1956 as a family-owned company, Widex's mission is to provide the best hearing aids and customer service so wearers can hear the world. They produced the first digital in-the-ear hearing aid and continue to lead the way with real-time machine learning technology.
Don't miss another moment.
Give us a call to start your journey to better hearing.
Great batteries.
Low prices.
Free delivery.