(Re)Discover life's details.
TruHearing® brand hearing aids combine best-in-class performance, wireless capability, and smartphone compatibility to deliver the most natural sound possible in stylish hearing aids that keep you moving. Embrace life without limits.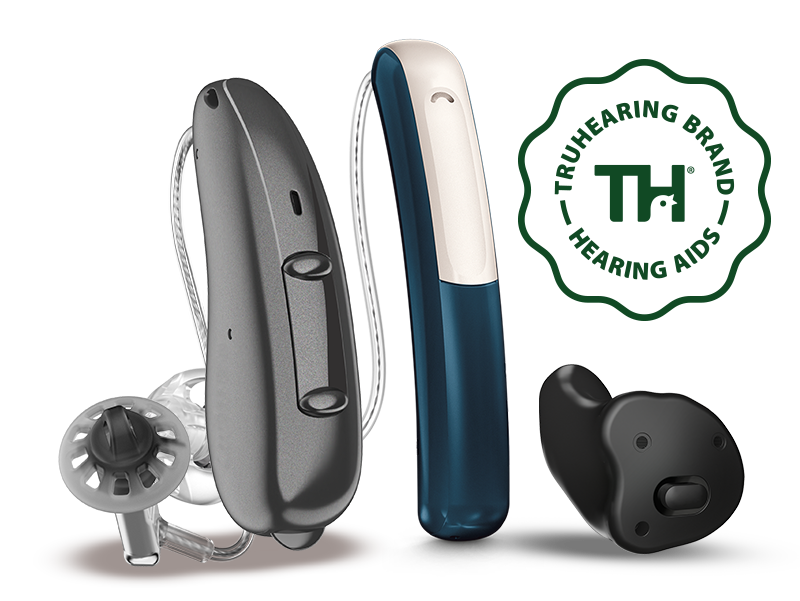 Finding the hearing aids that are right for you can be the difference between night and day. It's important to have lots of options available, from ultra-comfortable to highly stylish and nearly invisible models. TruHearing's network of providers help you choose from a wide variety of styles and colors at the highest technology levels. We believe that your hearing aids shouldn't just work great, they should fit perfectly and make you look good.
Hi-tech features. Simple operation.
Explore the features of TruHearing's prescription hearing aids and how they seamlessly enhance your life.
Mouse over any feature to learn more.
TruHearing's product range includes a full range of styles across our technology levels. From nearly invisible Instant Fits to stylish Slim RIC form factors we can find one that works for you.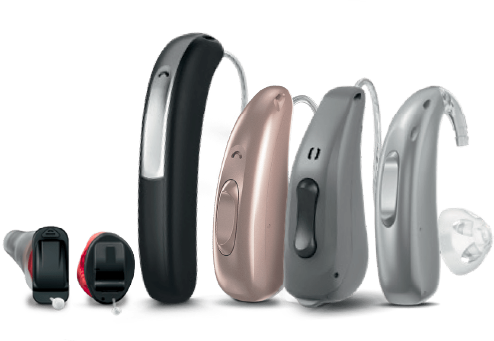 Hearing aid style is only the first part. most styles have a variety of color and finish options to help you personalize your hearing aids to your particular tastes.
Hearing aid technology levels.
Prescription hearing aids come in a number of technology levels. TruHearing offers Advanced and Premium technology levels in order to provide the greatest range of adjustability to satisfy demanding users and specific hearing loss profiles. Your hearing care provider will work with you to understand your specific needs and prescribe the correct hearing aids for your hearing loss.
TruHearing's Advanced hearing aids work for those with an active lifestyle and those who spend some time in challenging environments. These feature a wide variety of provider adjustability and customization based on hearing loss profile.
Automated digital processing
Adjustable speech enhancement
Adjustable feedback cancellation
Noise reduction
Wireless connectivity
Artificial Intelligence technology
Rechargeability
TruHearing's Premium hearing aids support you in the most challenging listening environments, like restaurants or in large groups of people. They featured the greatest range of adjustability and allow your provider to precisely adjust for any hearing loss profile.
Premium automated digital processing
Adjustable speech enhancement
Enhanced feedback cancellation
Adaptive directional microphones
Wind noise management
Automatic noise reduction
Wireless connectivity
Artificial Intelligence technology
Rechargeability
Extended bandwidth for better perception of speech and sound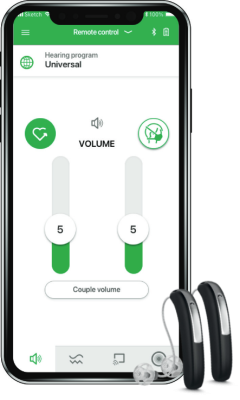 Adjustable from your smartphone.
TruHearing Advanced and Premium hearing aids with (Re)Mix Technology are some of the most high-tech, yet simple-to-use hearing aids available today. They connect easily to your smartphone or tablet through Bluetooth®.*
You can stream music, phone calls, and even driving directions right to your hearing aids. Additional controls in TruHearing's free smartphone app let you easily adjust volume, directionality, and other settings. 
TruHearing's free smartphone app has built-in health insights that help you achieve your health and activity goals.*

Physical: See how much you move with step counting.

Social: See how often you connect with others with Talk Time.
Hearing: See how much time you spend using your hearing aids.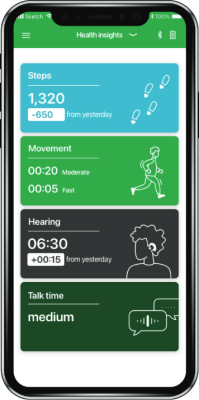 Learn more about how the TruHearing app harmonizes your hearing aids with your life.
Which hearing aids are best for me?
Your personal Hearing Consultant will set up an appointment for you to speak with a local hearing healthcare provider. We'll be by your side and guide you through selecting the TruHearing model that will best address your unique hearing loss profile.
Call today to schedule an appointment with a local provider.