News, Tips and Resources
The Amazing Benefits of Smartphone Hearing Aids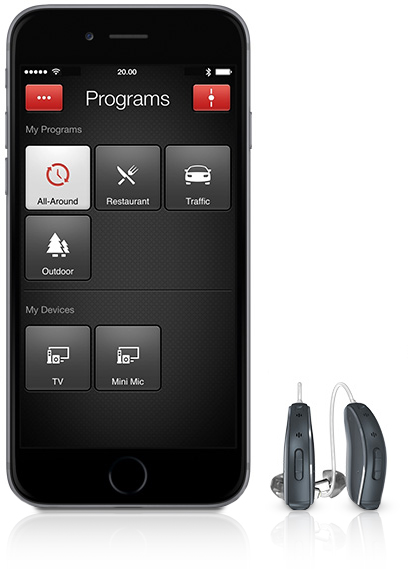 Fitness bracelets, smart watches, and contact lenses that test your blood glucose level are all examples of the ways that wearable technology is entering our everyday lives. Now we can add smartphone hearing aids to that list. Major hearing aid manufacturers have worked with Apple and Android smartphone makers to build technology that allows your hearing aids to connect wirelessly with your phone.
New smartphone hearing aid technology opens up a world of possibilities for hearing aid wearers. The new functions and abilities of these hearing aids aim to make your life easier and more convenient by giving you unprecedented, personalized control over your hearing experience.
How can smartphone hearing aids make your life easier and more convenient? Here are a few things you can look forward to doing with this new technology.
Stream Audio Directly to Your Ears
Imagine driving around town, listening to directions streamed right to your hearing aids! Smartphone hearing aids are convenient because they stream audio directly from your iPhone to your hearing aids—like phone calls, music, and driving directions. (Keep in mind, if you have an Android smartphone, you'll have to use a phone clip accessory to stream audio to your aids.)
Control Settings from Your Phone
When you get smartphone hearing aids, they'll connect wirelessly with a free app on your phone which will allow you to make adjustments easily and discreetly. To everyone else, making adjustments to your hearing aids looks like you're texting or checking Facebook. The days are gone when you have to reach behind your ear to toggle the buttons—alerting everyone to the fact that you're wearing hearing aids.
Besides making your hearing aids more discreet, the phone app also gives you more control to customize your hearing experience. The app allows you to control volume, programs, bass, treble, and more. If you don't like the way your hearing aids sound, now it's up to you to change it with technology never before available.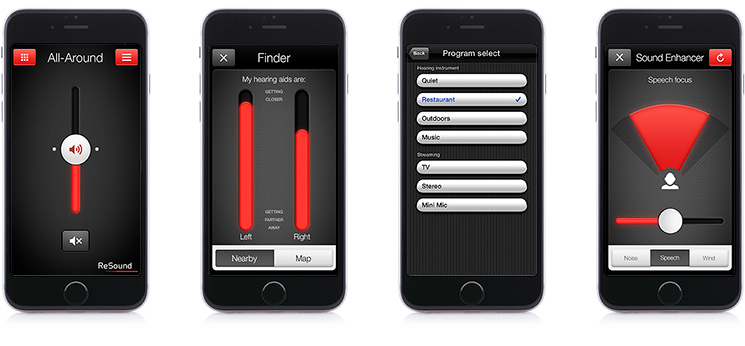 Easily Find Misplaced Hearing Aids
Hearing aids are easy to misplace, but with new GPS tracking technology in smartphone hearing aids, you can always find them with the help of the free app on your phone. The app tracks the location of your hearing aids, so you always know where they are.
In addition to showing you the exact position of your hearing aids on a map in real time, you don't have to waste time searching for misplaced hearing aids in your own home. With the "hot and cold" feature, you can simply walk around your house and the app will tell you when you're getting closer or farther away from your hearing aids—saving time and headaches.
Automatically Adjust Settings to Your Favorite Locations
We know one of the hassles of wearing hearing aids is constantly switching programs—especially for places you visit frequently, like a church, favorite restaurant, or family member's house. Because smartphone hearing aids use GPS to track the location of your hearing aids, they can "remember" certain locations and adjust automatically when they sense you are there. All you have to do is save the settings for the places you frequently visit, and the hearing aids will adjust automatically when you go there! No hassle. No Fuss.
Always Have a Remote Microphone in Your Pocket
Instead of investing in extra accessories, like a remote microphone, to help expand your hearing ability, smartphone hearing aids allow you to use your phone as a microphone. If you're in a noisy restaurant, simply place your phone on the table between you and your companion and stream their voice right to your ears.
Top Smartphone Hearing Aids
Top hearing aid brands have introduced smartphone hearing aids to the market in the last couple of years, including ReSound, Starkey, and Oticon.
Here are some of the most popular models that TruHearing currently offers:
| | | |
| --- | --- | --- |
| Popular Models | Avg. Retail Price | TruHearing Price |
| ReSound LiNX2 5 | $1,920 | $1,250 |
| Starkey Halo i70 | $2,395 | $1,295 |
| Starkey Halo 2 i1600 | $2,300 | $1,350 |
| ReSound LiNX2 7 | $2,550 | $1,695 |
| Starkey Halo 2 i2400 | $3,065 | $2,095 |
| ReSound LiNX2 9 | $3,055 | $2,195 |
| Oticon Opn | $3,410 | $2,250 |
In addition to the major manufacturers' hearing aids listed above, TruHearing is pleased to announce that we are releasing our first smartphone hearing aid in November 2016, called Flyte. The new TruHearing Flyte hearing aids have all of the same features outlined above but may provide you even bigger savings.
| | | |
| --- | --- | --- |
| Models | Retail Price | Your Price |
| Flyte 700 | $1,850 | $995 |
| Flyte 900 | $2,995 | $1,395 |
For full details on Flyte, stay tuned. We'll be sharing more information as the November release approaches.
To see pricing for all our hearing aids, including more smartphone hearing aid models, click here.
Keep in mind, if your health plan provides a hearing aid benefit, you may be able to get this new technology for little-to-no out-of-pocket cost. If you think you may have a benefit, or want to find out how much you have available—give us a call and we'll find out for you: 844-300-1782.
The Future of Hearing Aids
Smartphone hearing aids are not a fad; they are the next evolution of hearing aid technology. Expect this technology to continue to improve and expand to give you even more hearing ability and control in the future. Whether you're ready for a new pair of hearing aids now or in the future, look into smartphone hearing aids for your next purchase to make your hearing aid experience easier and customized to your lifestyle.