News, Tips and Resources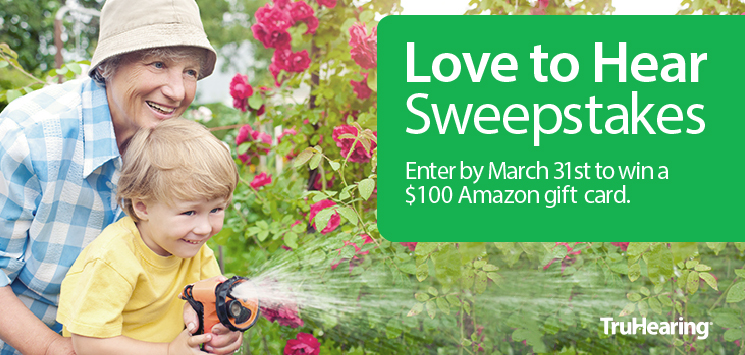 Tell Us What You Love to Hear for a Chance to Win!
At TruHearing, we're looking forward to all the sounds of spring that are right around the corner. And if you have hearing loss, you know how much easier hearing aids can make it to hear the world around you. In fact, we'd like to hear how hearing aids have improved YOUR life. What can you hear better now that you couldn't before hearing aids? Is it the voices of your friends and family? Or the sounds of nature coming to life again after winter? What sounds are most important to you?
Here is what some of our customers have already told us:
"My husband heard a bird yesterday…the first time he's heard that sound in seven years… The 'volume' in our home has lowered times 10 as has any discord. He can hear children & women's voices again and yesterday, he called me at work to tell me that he had heard a bird!" –Susan

"I've been wearing hearing aids about six months, and the result is absolutely dramatic. The other night we were at a restaurant and the waiter came by and poured a glass of water over a lady's ice and I could hear the ice crackling. I could hear the gentleman's fork tinking off of his plate as he took his bites. And I sat there thinking, 'Wow, those are all the sounds I've been missing." –Kerianne
Do you have a story like this? We want to hear it.
Share your experience with hearing aids and the sounds you love the hear the most, and you'll be entered into a drawing for a $100 Amazon gift card.
Enter by posting your story to our Facebook page by clicking here, OR send your story by email to LoveToHear@truhearing.com. Please include your first and last name and city/state of residence.
A winner will be randomly selected from all the stories submitted by March 31st, 2017, and will be announced on our Facebook page on April 16th.
No purchase necessary to enter or win. A purchase or payment of any kind will not improve your chances of winning.